Keto is not like so many other diets out there. It does not require you to starve yourself just so you can lose a few pounds. The high-fat and moderate-protein nature of keto dishes will help you feel fuller faster and for longer periods. So, you rarely feel the need to snack in between meals. That said, here are 10 healthy and nutritious keto breakfast ideas that will also help you lose weight at the same time (yes, keto is THAT amazing!).
Breakfast idea #1 – Bulletproof coffee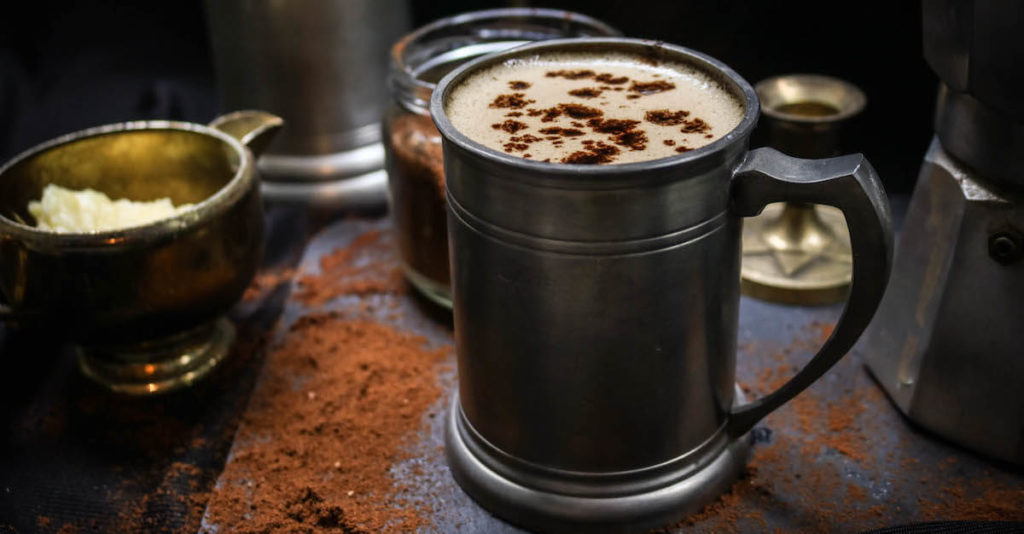 If you've never had bulletproof coffee before, prepare to get your mind blown. This high-fat drink comes in many varieties, but the original recipe called for 1-2 tablespoons of butter and MCT oil, along with coffee, of course. You need to use a blender, so all the ingredients get mixed together, otherwise, all the fat is going to float on top.
Other variations use heavy whipping cream, ghee, and coconut cream. You can play around with different high-fat ingredients until you find one that suits your palate. You can even add collagen powder and an egg to add some protein to your drink.
Just remember that bulletproof coffee is meant to be a breakfast replacement, so pairing it with another dish isn't such a good idea. Fortunately, drinking all that fat will help you feel full for hours, so it should power you up until lunch (or even a super late lunch!).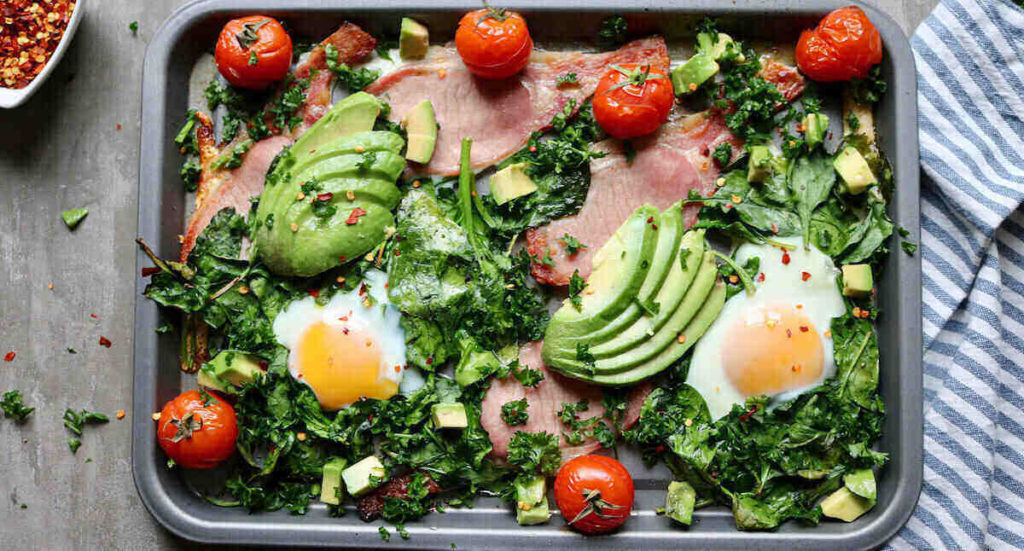 This breakfast is so easy to prepare! Once you've tried this, you'll probably want to make this a few times a month. It's got all your favorite keto ingredients in it – avocado, green leafy veggies, eggs, and bacon!
You can easily switch out the ingredients with something else if you need to add variety to your breakfast. And the best thing? You need zero cooking skills! It's your oven that does all the hard work for you.
Here's what each serving of this breakfast dish gives you:
Calories – 490
Fat – 43.2g
Net carbs – 4g
Protein – 17.6g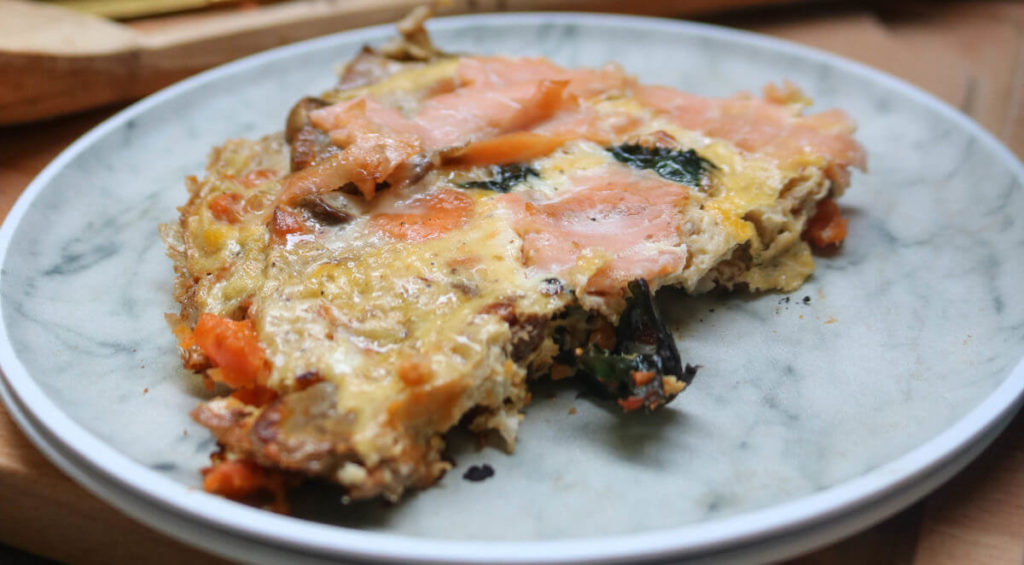 Eyes here if you love salmon and eggs! This recipe will absolutely blow your mind with how amazing it is. If you have a cast-iron skillet, you can use it to go from the stovetop (to sauté the veggies) and then to the oven to cook the rest of the ingredients.
For those wondering if it's okay to add some cheese, the answer is yes! Feel free to add some mozzarella or gouda cheese, both go well with salmon. Cheese will also add more fat to your breakfast.
Each serving of our frittata recipe contains the following:
Calories – 231.5
Fat – 15.4g
Net carbs – 7.7g
Protein – 22.25g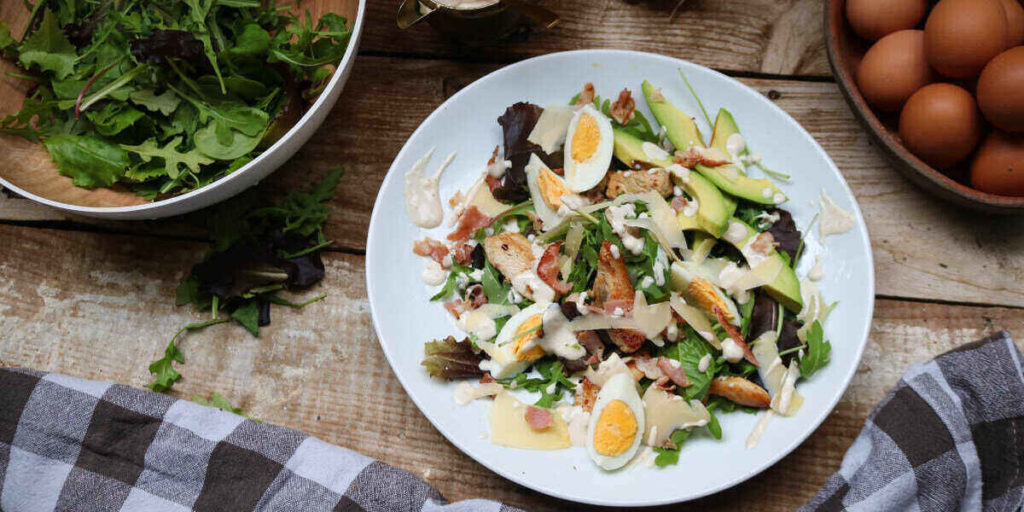 What? A salad for breakfast? Well, why not? I know salads are usually served up during lunch or dinner. But with keto, anything goes as long you're not going beyond the net carb limit (usually 20g for beginners and up to 50g for fat-adapted keto-ers).
Our recipe calls for some chicken, bacon, eggs, cheese, avocado, and mixed greens so you're getting a healthy mix of fat and protein. Best of all, a huge serving only has 6g of net carbs. This salad is not only healthy, but it's also deliciously filling!
Here's what each serving includes:
Calories – 579
Fat – 38.3g
Net carbs – 6g
Protein – 48.5g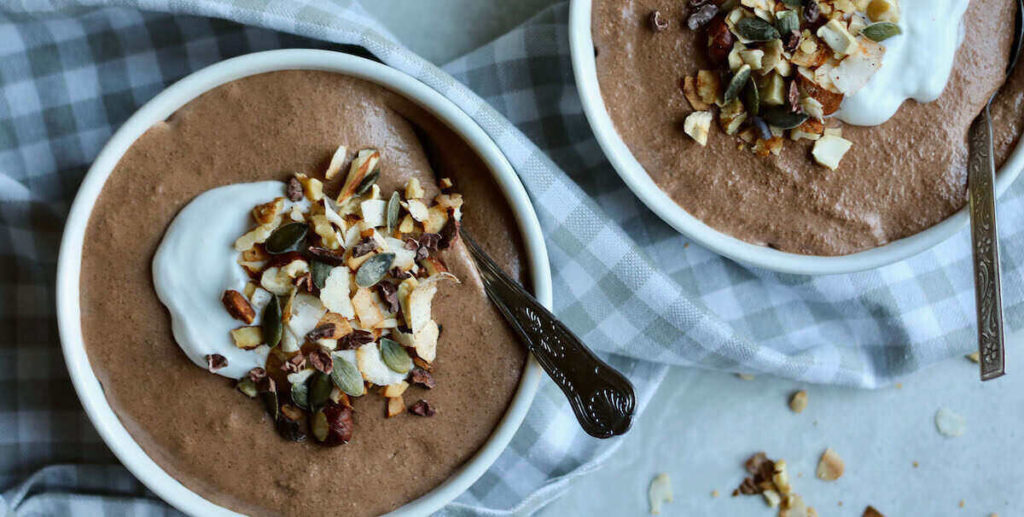 We've reached the halfway point of our keto breakfast ideas blog post! So, of course, we need to feature something that has chocolate in it.
I know… chocolate first thing in the morning? I love it!
As with any chia recipes, you'd need to soak the chia seeds overnight to let it absorb the liquid. But in the morning, preparing the pudding is pretty straightforward and should be ready in just a few minutes.
Simply mix all the ingredients together if you like chia's natural 'frog spawn' texture. Otherwise, you can blend them all together to get a velvety smooth texture! Our recipe also adds a bit more texture to the whole pudding – you can add some mixed nuts and coconut flakes on top of it.
Here's what each serving gives you:
Calories – 467.4
Fat – 33.43g
Net carbs – 6.99g
Protein – 12.40g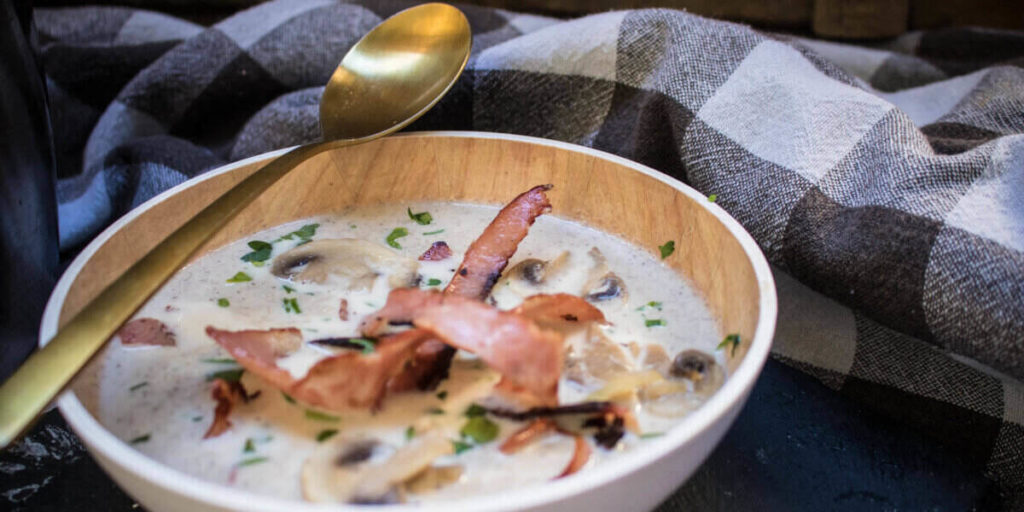 I love mushroom soup, especially when the weather's cold. Eating a hot bowl of thick soup can wake you up properly and give you a boost of energy. A whiff of steaming broth and fried bacon is enough to make your nose perk up. Eating the whole soup – along with its crunchy bacon bits – is an experience in itself!
In addition to the ever-popular Agaricus bisporus mushroom varieties (champignon, common mushroom, cremini, classic brown, chestnut, portobello), you can also use oyster, shiitake, enoki, shimeji, and porcini mushrooms for this recipe.
This keto breakfast idea recipe is good for 4 servings, but I wouldn't blame you if you helped yourself to a second serving! Here's what each serving of this delicious soup includes:
Calories – 367
Fat – 30.8g
Net carbs – 6.2g
Protein – 16.7g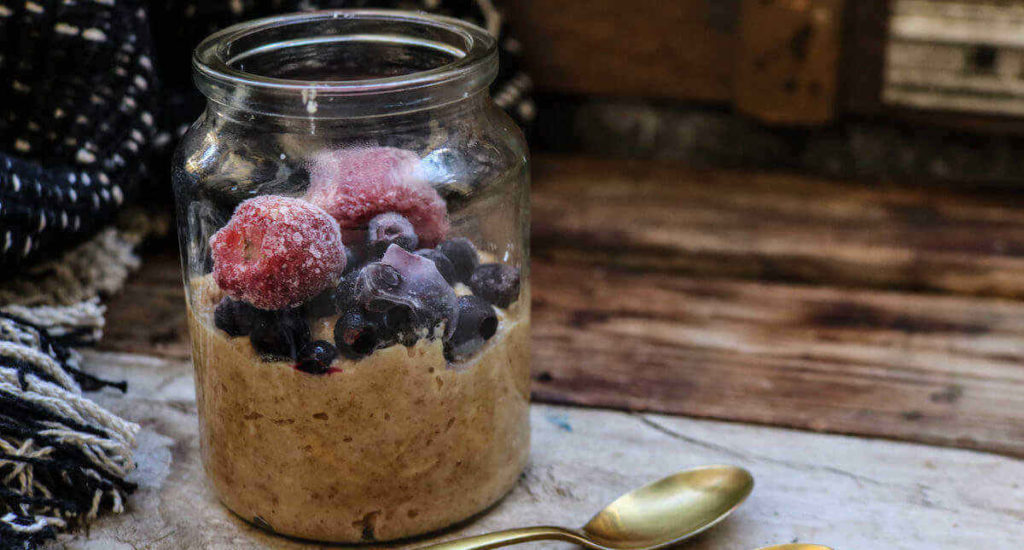 Traditional porridge recipes call for rice or porridge. However, both are 'ingredients non grata' in the keto world, so we used coconut cream and coconut flour to thicken up our 'porridge'.
This breakfast dish is not only tasty and super filling, but it's also extremely easy to make. Total preparation and cooking time is only 12 minutes, so you'll get your porridge fix relatively quickly.
To balance out the heavy creamy texture of the porridge, you can top it off with low carb fruits such as strawberries or blueberries.
Here's what each serving of this keto porridge gives you:
Calories – 446
Fat – 43.8g
Net carbs – 4.4g
Protein – 8.2g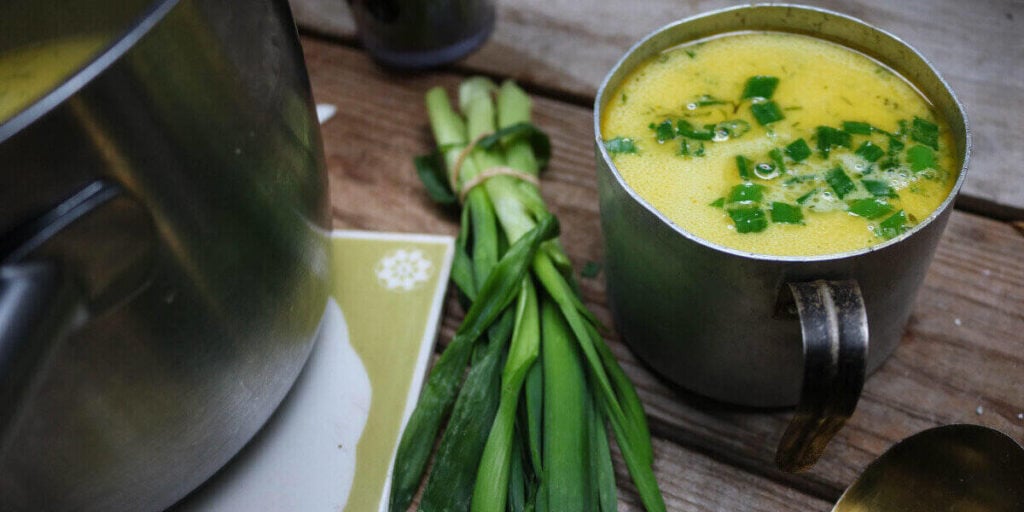 We've already featured mushroom soup, this time let's talk more about another type of soup – shrimp chowder! I personally love shrimp. It has zero carbs but it's super rich in protein. Sure, it's not exactly high in fat (which is important in keto) but that's where the butter and heavy cream comes in.
This recipe makes 4 servings, so you can spread this out over 4 breakfasts (just don't forget to reheat)! Here's what each serving of this keto shrimp chowder includes:
Calories – 387
Fat – 25.6g
Net carbs – 5.1g
Protein – 32.8g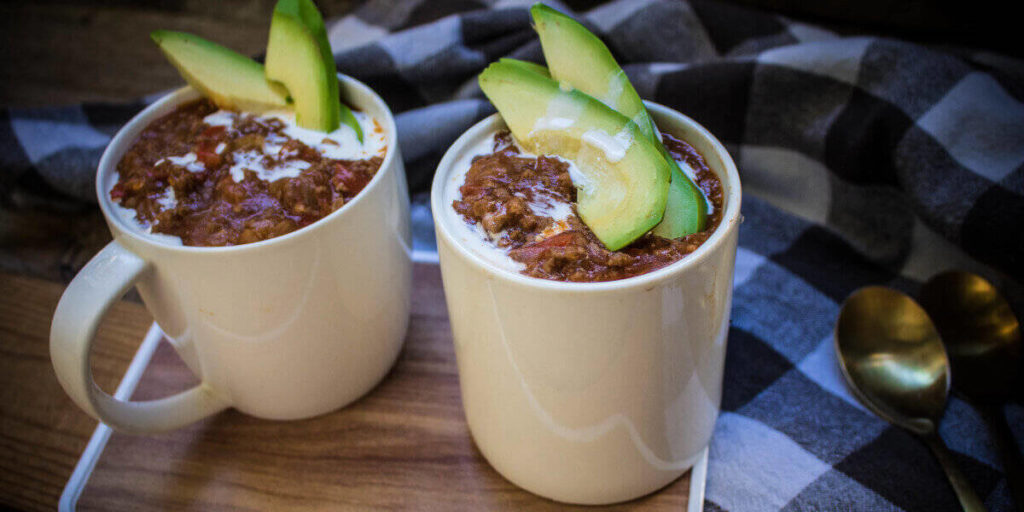 We're not going to end our list of keto breakfast ideas without chili!
Now, chili without beans might sound strange, but in the keto world, there's a substitute for everything! For this recipe, we just omitted the beans, which means more meat and protein for you. We also added one avocado to add some healthy fat to the dish.
This chili is perfect for breakfast on any given morning. But on cold ones? You better lay on the heat and add some more chili powder!
Here's what each serving gives you:
Calories – 482
Fat – 26.6g
Net carbs – 12.7g
Protein – 40.4g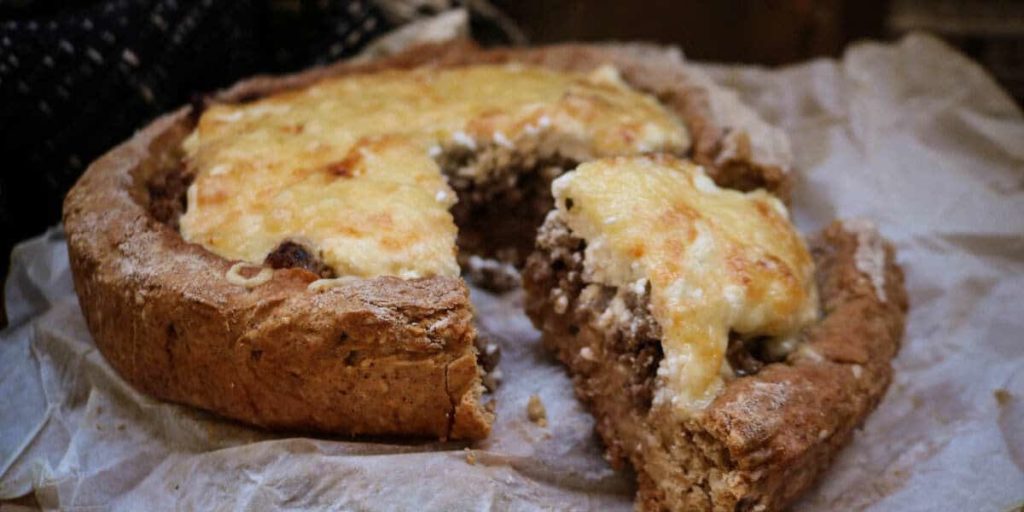 Pies aren't just for dessert, they're also perfect for eating at breakfast. This minced meat keto pie is perfect with your morning coffee (not bulletproof coffee though). It's got a nice, thick crust made with keto-friendly flours, well-seasoned beef for the filling, and a mouthwatering double cheese topping!
Making this pie will take at least an hour, so try to make this the day before. Then when you wake up the following morning, you can just heat up a slice in the oven, and wolf it down for breakfast.
Here's what each serving gives you:
Calories – 570
Fat – 36.9g
Net carbs – 8g
Protein – 47g
Want more keto breakfast ideas?
All of the recipes we've featured in this post are versatile and easy enough to adapt to your own tastes. Feel free to swap out ingredients with whatever's available to you! If you need more keto recipes, check out our Intelligent Keto eBook. It's got plenty of recipes for breakfast, lunch, dinner, dessert, and even sauces and condiments!