MagEnhance Complete Magnesium Complex Benefits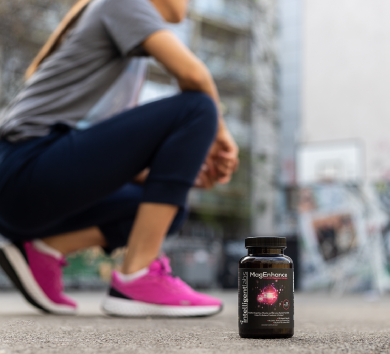 MagEnhance includes 1000mg of Magnesium-L-Threonate, the only form of magnesium that can cross the blood-brain barrier. It raises brain magnesium levels, which helps promote optimal brain health, cognitive function, memory, and learning.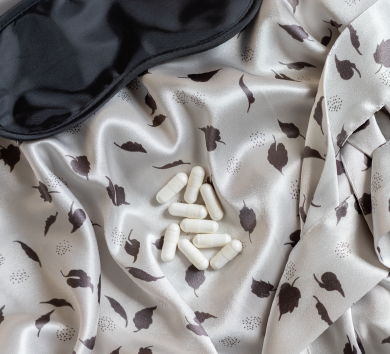 MagEnhance also includes 690mg of Magnesium Glycinate, the most bioavailable form of magnesium. It helps raise body magnesium levels to support normal muscle and nervous system function, as well as aid in exercise recovery and performance.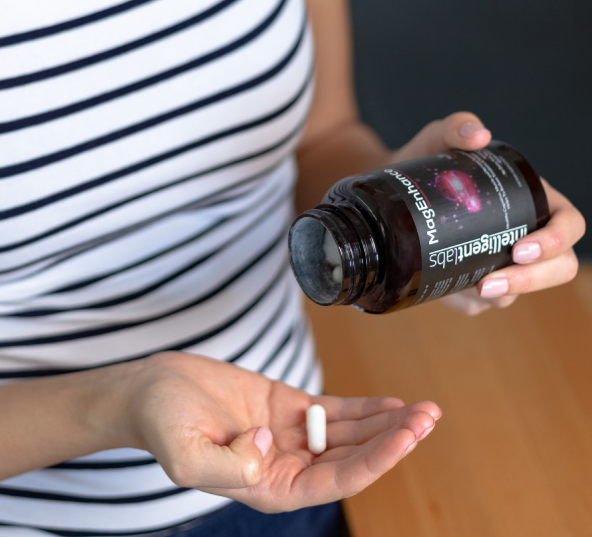 Calm Nerves and Sound Sleep*
With 630mg of Magnesium Taurate, MagEnhance acts on GABA receptors in the nervous system to calm nerves and help with sleep. It helps reduce stress and promotes a feeling of relaxation, so you can handle whatever life throws at you!

3 Types of Magnesium
MagEnhance's triple strength magnesium formula is the most complete in the market today!

90 Vegetarian Capsules
Take a 3-capsule serving of MagEnhance before bedtime. Each bottle is good for 30 servings.

Quality Control
This dietary supplement is manufactured at an NSF GMP-certified facility in the United States.

Fair Return Policy
If you don't love our product, simply return it for a refund within 30 days (conditions apply).
Why Should I Take MagEnhance?
Magnesium is an incredibly powerful nutrient, but up to 80% of us don't get enough magnesium in our diets. It's been taken out of our water, our salt, and even our food. Even stress and pollution leach our bodies of this essential mineral.
Without magnesium, our hearts would stop pumping, our bones and teeth would crumble, and our immune system would not be able to fight off disease. It's such a vital nutrient that it's involved in over 600 biochemical reactions in the human body!
To make sure you're getting enough magnesium, take MagEnhance. It's the most complete magnesium supplement in the market today. Our in-house scientists specifically chose Magnesium-L-Threonate, Magnesium Glycinate, and Magnesium Taurate for their outstanding health benefits!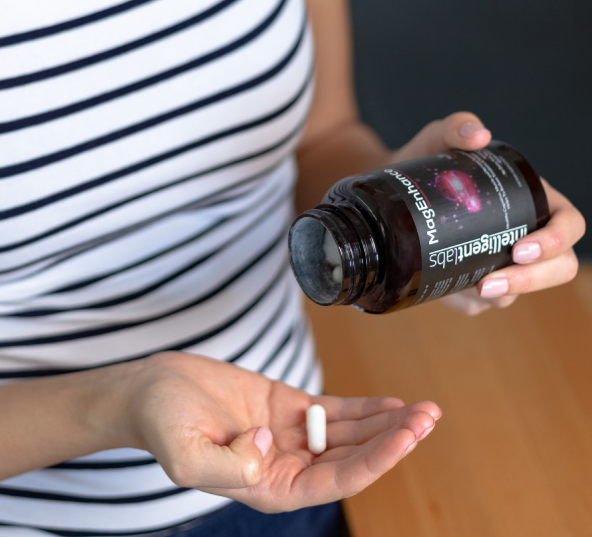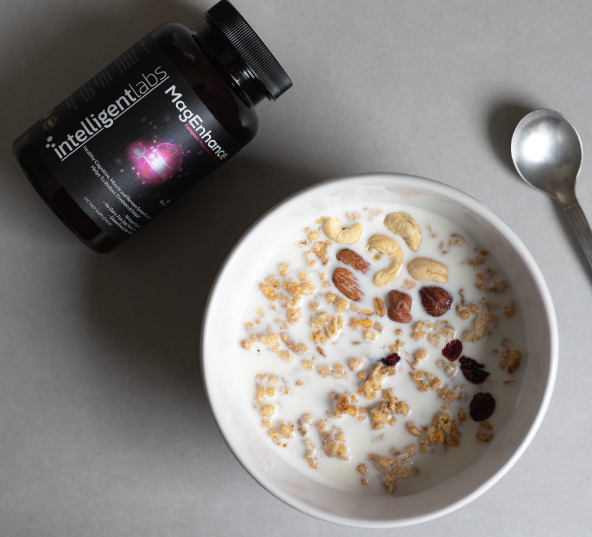 Magnesium-L-Threonate
Scientists from three top-tier universities developed this ""brain magnesium"" to specifically pass the blood-brain barrier.
This directly increases levels of magnesium in the brain, which helps supercharge memory and learning potential.
It's also highly effective at reducing the severity of migraines and headaches!*
Magnesium Glycinate
Magnesium-L-Threonate works on the brain, but the rest of the body still needs magnesium, too! For this very reason, we use Magnesium Glycinate, the most absorbable form of magnesium available.
It helps ensure adequate amounts of magnesium is available for whatever the body needs it.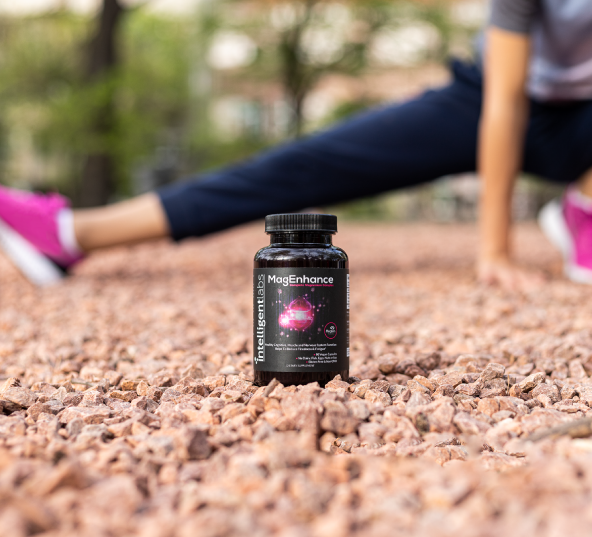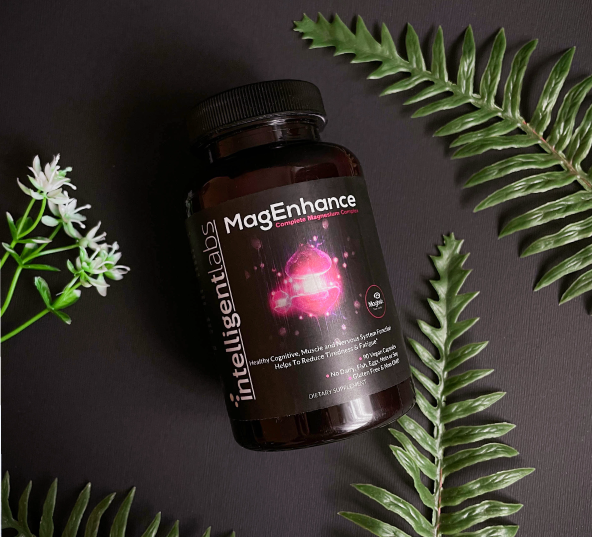 Magnesium Taurate
Who doesn't need a bit more sleep these days?
Magnesium Taurate is the third form of magnesium in MagEnhance. It's a mixture of magnesium and the amino acid taurine.
These two elements act on the GABA receptors in the central nervous system, which produce feelings of calm, relaxation, and help with improving sleep quality.
At Intelligent Labs, we use high-quality ingredients to make the best magnesium supplement in the market! We don't use fillers, artificial flavours, additives or preservatives on any of our health products.
Magenhance Magnesium is manufactured at an FDA-registered and GMP-certified facility in the United States.












NO CHEMICAL PRESERVATIVES
Serving size: 3 Capsules
Servings per Container: 30
Ingredients: Magnesium Glycinate, Magtein® Magnesium-L-Threonate, Magnesium Taurate
Other Ingredients: Vegetable Cellulose (Capsule), Microcrystalline Cellulose, Ascorbyl Palmitate, Silicon Dioxide
CAUTION: Consult your physician if you are taking medications, or have any medical condition.
Keep out of reach of children. Do not use if seal is damaged or missing. Please do not eat the enclosed packet. Store in a cool and dry place. Avoid excessive heat. Tighten cap when not in use.
FREQUENTLY ASKED
QUESTIONS
Are there any side effects from taking magnesium?
Magnesium is a very safe supplement to take, and the body easily excretes any excess in the urine and faeces. We only use the highest quality, most absorbable forms of magnesium to keep any chance of side effects happening to an absolute minimum. However, when you first start taking magnesium, and your body isn't used to the higher doses, it can have a laxative effect, which can cause little diarrhoea or an upset stomach.
To prevent the chance of this affecting you, you can:
Firstly, take your magnesium supplement with food because food helps with absorption. You will be able to absorb the magnesium you're taking (making it more effective, too!). So, less will reach your colon where it can have a potential laxative effect (unless you want to take it to help with constipation).
Secondly, start with one capsule a day. If it's well-tolerated, move up to 2 or 3 capsules (the recommended serving size). This allows your body to get used to absorbing the magnesium gradually. If you do notice some symptoms, stick at that dose for a few days (as long as it's tolerable), and it should pass. If it doesn't, reduce the dosage again.
If you have symptoms that don't go away after a few days, you can split up your daily dosage into more servings, so one capsule with breakfast and 1 or 2 with dinner. This will reduce the amount of magnesium passing through your digestive system at any one time.
I get migraines. Can magnesium make them worse?
Our MagEnhance contains Magnesium-L-Threonate, a form of magnesium specifically designed to raise magnesium levels in the brain. This can help people who suffer from migraines or headaches and is excellent for all aspects of brain health, learning and thinking clearly. However, in the first week or 2, while magnesium is still building up in the brain, it can occasionally cause mild headaches. This is completely normal and passes quickly, but it is also something to be aware of.
What is the correct dosage to take?
The standard dosage is 3 capsules a day. This is sufficient to correct a magnesium deficiency and maintain healthy levels in the body to help all areas of your health. However, if you have more severe symptoms you need to treat, or you want to access the full learning/memory/executive performance-enhancing abilities of Magnesium-L-Threonate, you can go up to 6 capsules a day, but please don't exceed this!
How many carbs does each capsule have?
There are zero carbs in MagEnhance, so it's perfect for anyone interested in improving their brain and body magnesium levels.
Is there a Magnesium Oxide component in your Magnesium Glycinate?
We use fully 'buffered', 100% Magnesium Glycinate (no Magnesium Oxide). Virtually all other Magnesium Glycinates are a mixture of Magnesium Glycinate and Magnesium Oxide, but NOT MagEnhance. Magnesium Oxide is very poorly absorbed, so it's almost worthless when used in supplements. It can also cause disturbances in the gut as it passes through the digestive system.
Is this an extended or delayed release product?
No, it is not. Magnesium is best taken before bed, so the extended release is not ideal.
Is there caffeine in MagEnhance?
No, it does not contain caffeine.
What is the breakdown of elemental magnesium for the 3 forms of magnesium in MagEnhance?
There's a difference between total magnesium and elemental magnesium. The elemental levels that make it to your bloodstream, per serving, are:
72mg of elemental magnesium from 1000mg of Magnesium-L-Threonate (Magtein)
207mg of elemental magnesium from 690mg of Magnesium Glycinate
189mg of elemental magnesium from 630mg of Magnesium Taurate
In total, each serving of MagEnhance contains 468mg of elemental magnesium.
Want to know something else?
Then shoot us a message at support@intelligentlabs.org or via our contact page and we'll get right back to you.

These statements have not been evaluated by the Food and Drug Administration. This product is not intended to diagnose, treat, cure, or prevent any disease