Category
dessert
Difficulty
Intermediate
Craving for some tasty cookies, but don't want to break your keto diet by grabbing a couple of Chips Ahoy boxes at the supermarket? Well, today, I'll share my very special keto chocolate chip cookies recipe that you can make in just 20 minutes. Honestly, your trip to the supermarket will probably take longer than baking a fresh batch of these mouthwatering keto cookies from scratch.
Why Try This No Sugar, Low Carb Keto Cookies Recipe?
If you're on keto, then this recipe is a must try! A single serving of our keto chocolate chip cookies will give you 15g fat, 3.5g net carbs, and 3.15g protein, which means it shouldn't be a problem if you munch on 2 or 3 or even 5 of these yummy cookies! In fact, even if you decide to eat the whole batch of 12 cookies, you'll only consume 42 net carbs which is still within the 50g carb limit to reach or stay in ketosis.
Now, compare these keto numbers with regular choco chip cookies. Depending on the brand and/or ingredients used, a single serving will have about 20g net carbs. It's a significant increase (16.5g net carb difference) from our low carb keto version! With this keto cookies recipe, you'll not only fulfil your cravings for that chewy or crunchy chocolatey goodness, you're also in no danger of getting kicked out of ketosis!
That being said, this recipe will yield 12 chewy cookies. I know some of you may prefer to feel a more satisfying crunch with every bite, so I'll also include a few tips below on how to make your keto cookies even more crunchy!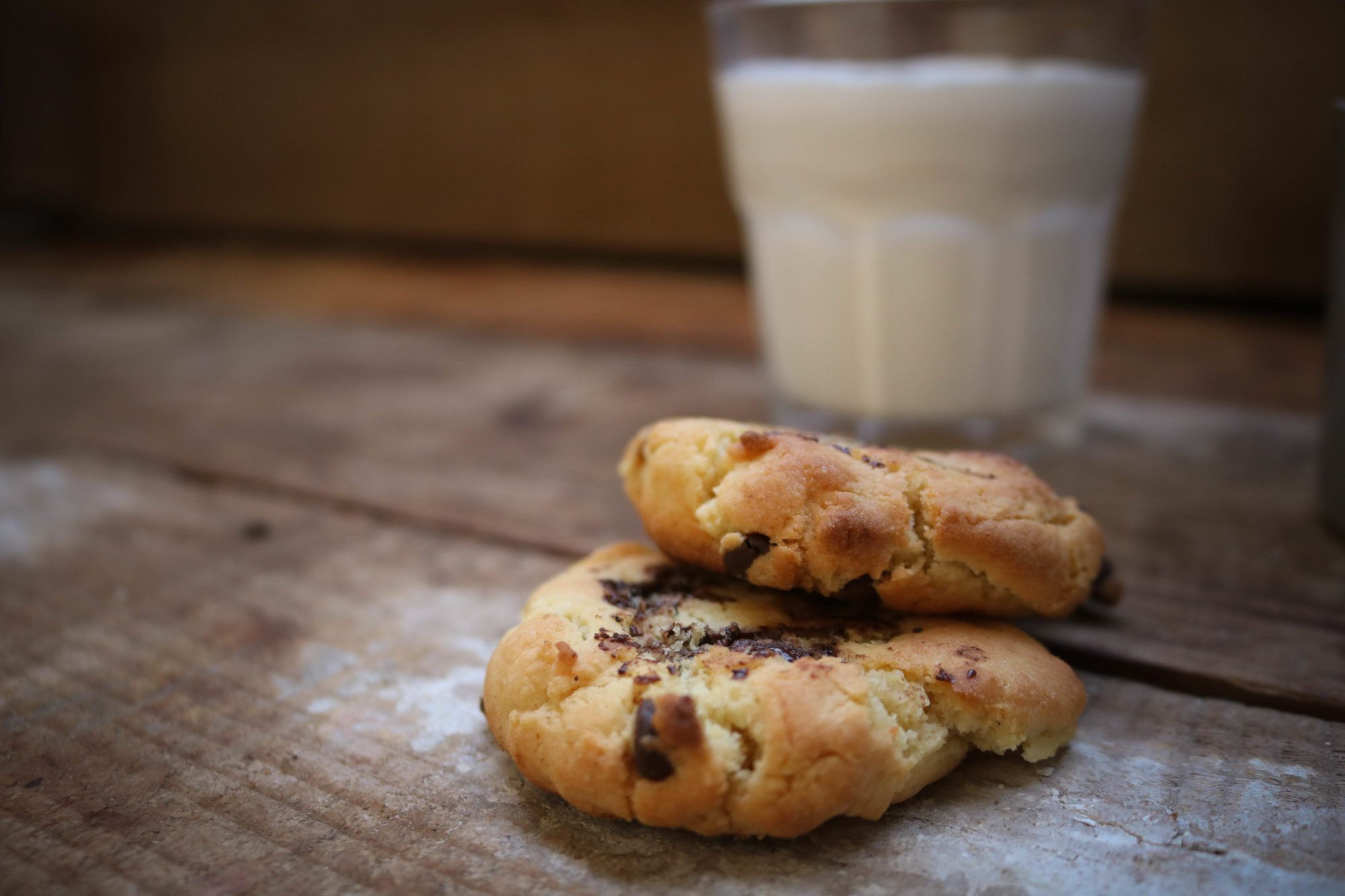 Prep Time10 mins
Cook Time10 mins
Total Time20 mins
Keto Chocolate Chip Cookies Ingredients
¾
cup
sugar free chocolate chips
How To Make Chewy Keto Chocolate Chip Cookies
1
Preheat the oven to 180°C and line a baking tray with parchment paper. Melt the butter in a double boiler over low to medium heat.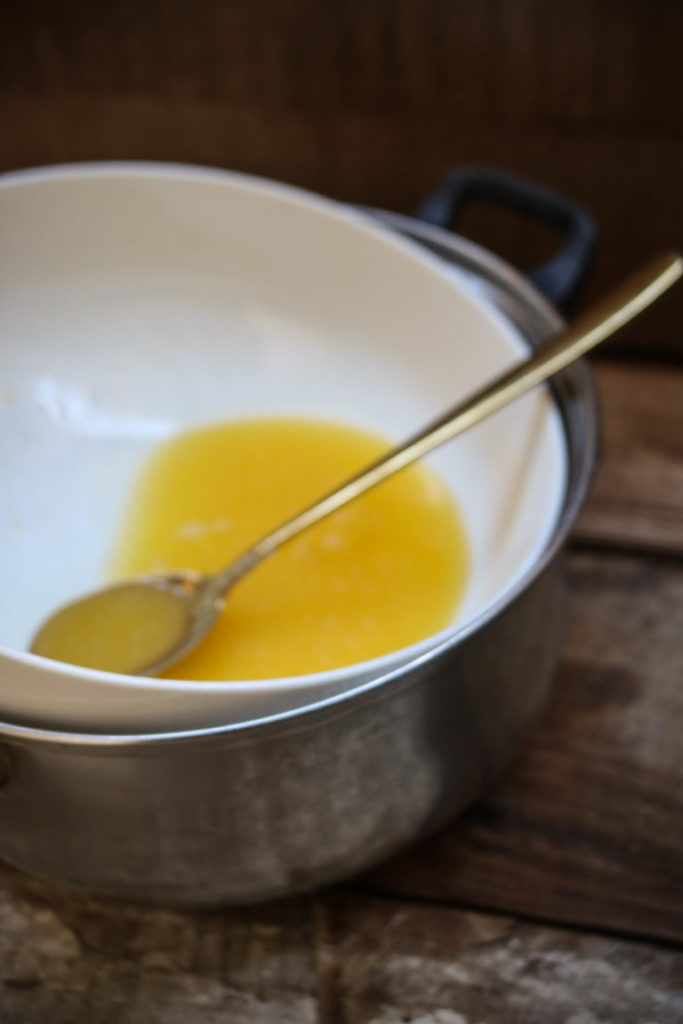 2
Mix the butter with the erythritol until well combined. Add the vanilla and egg, and beat with an electric mixer on low speed for exactly 15 seconds. Don't go beyond 15 seconds if you don't want your cookies to go flat!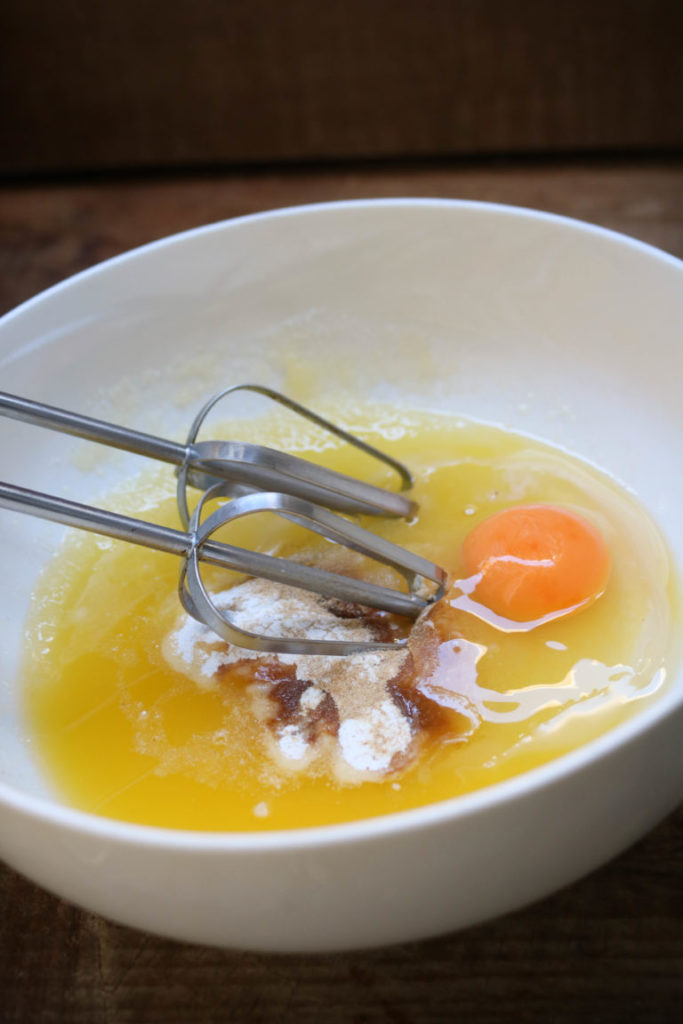 3
Gradually add the almond flour, baking powder, xanthan gum, and salt and beat until well combined into a dough.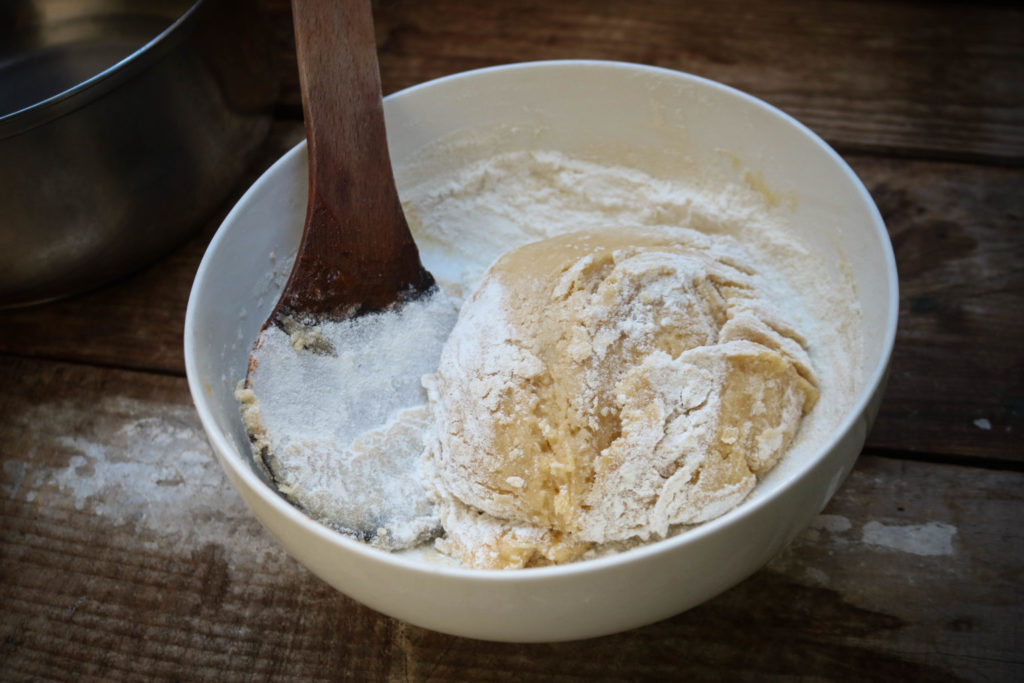 4
Fold in the chocolate chips with your hands or wooden spatula. Make sure the choco chips are spread evenly throughout the dough. Otherwise, some cookies may not have choco chips in it!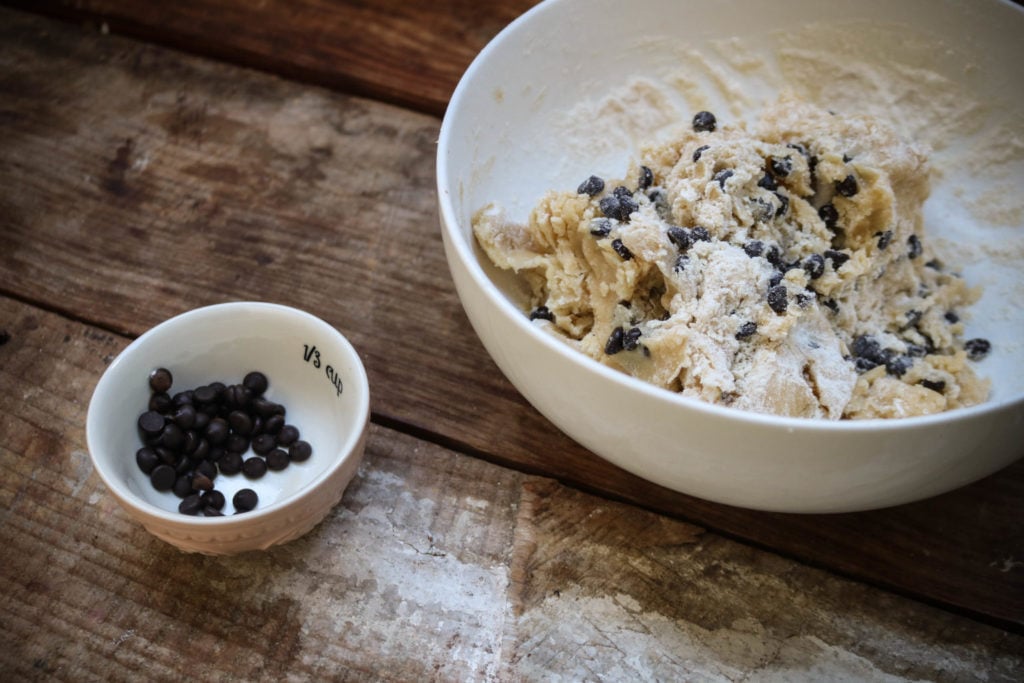 5
Divide the dough into 12 balls and place on the prepared baking tray. Bake for 10 minutes in the preheated oven.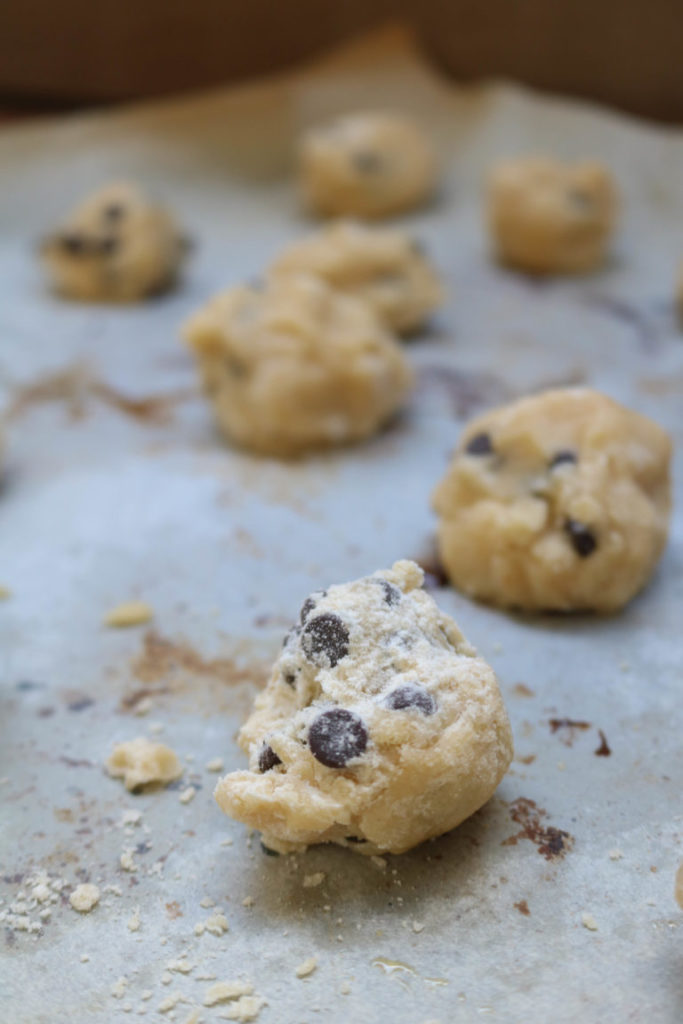 6
Allow to cool and serve at room temperature. The cookies will be very chewy right out of the oven, but if you let it cool down, they'll crisp up a bit. If you want crunchier and crispier cookies, scroll down for a few recipe adjustments.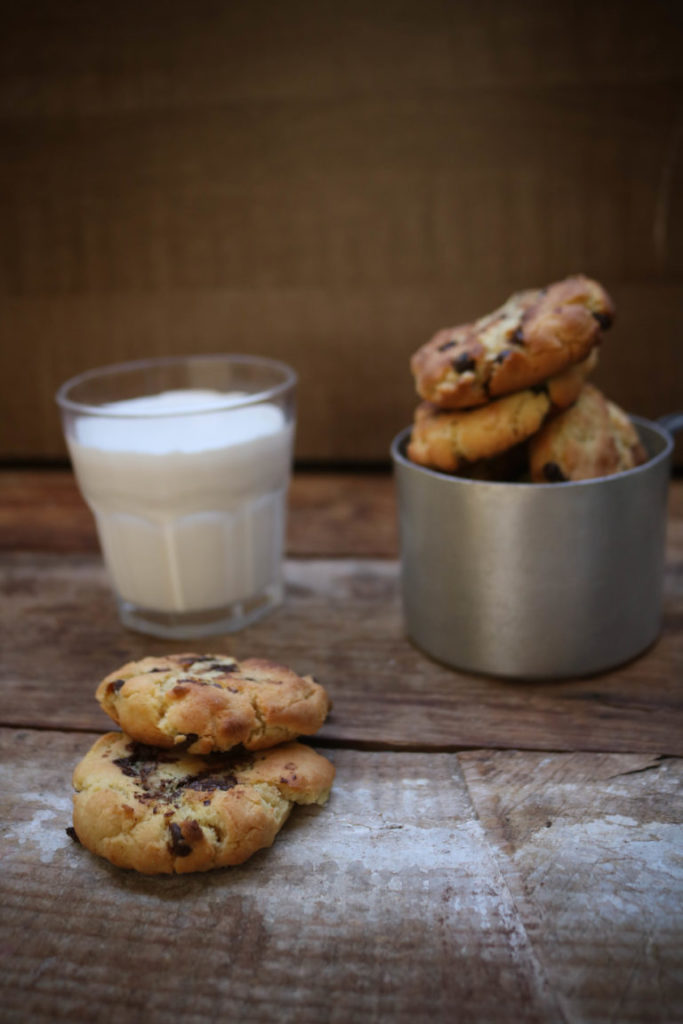 Chocolate Chip Keto Cookies Nutrition Facts
| | | | | | | |
| --- | --- | --- | --- | --- | --- | --- |
| Keto Chocolate Chip Cookies | Calories | Fats (g) | Carbs (g) | Fiber (g) | Net Carbs (g) | Protein (g) |
| ½ cup Salted Butter (100g) | 814 | 92.1 | 0.1 | 0 | 0.1 | 1 |
| ¾ cup Erythritol (125g) | 0 | 0 | 0 | 0 | 0 | 0 |
| 1 teaspoon Vanilla Extract | 12 | 0 | 0.5 | 0 | 0.5 | 0 |
| 1 large Egg | 63 | 4.4 | 0.3 | 0 | 0.3 | 5.5 |
| 1 ½ Almond Flour (170g) | 680 | 53.8 | 24.3 | 12.1 | 12.2 | 24.3 |
| ½ teaspoon baking powder | 2 | 0 | 1.2 | 0.1 | 1 | 0 |
| ½ teaspoon xanthan gum | 0 | 0 | 0 | 0 | 0 | 0 |
| ¼ teaspoon Salt | 0 | 0 | 0 | 0 | 0 | 0 |
| ¾ cup Sugar Free Chocolate Chips (100g) | 420 | 31.5 | 56 | 28 | 28 | 7 |
| Total | 1991 | 181.5 | 81.8 | 40.2 | 42.1 | 37.8 |
| Per Serving (<12) | 165.9 | 15.15 | 6.81 | 3.35 | 3.50 | 3.15 |
Recipe Adjustments You May Want To Consider
How To Make Your Keto Cookies EXTRA CHEWY
Can't get enough of that chewy goodness? I've got a tip here for you:
Add blackstrap molasses for more flavourful, moist, chewy keto cookies. Molasses may not be a traditional keto sweetener (especially in large amounts), but all you need is a single teaspoon to make your cookies extra chewy. One teaspoon will add 15g carbs (0g fat and protein), but when divided over 12 servings, it will add no more than 1.25g carbs to each cookie/serving!
In addition to the extra chewy goodness, molasses also prolongs your cookies' shelf life, which is great if you're thinking of baking several batches. You won't need to worry about the cookies going rancid quickly.
How To Make Your Keto Cookies More CRUNCHY
Chewy keto cookies are great, but if you want crunchier baked goods, then here's what you need to adjust in the recipe:
Skip the xanthan gum. Instead of 9 ingredients, you'll only need to work with 8 (even better, right?). Half a teaspoon of xanthan gum is enough to make the cookies chewy. But if you want that crunching sound with every scrumptious bite, don't add the xanthan gum in step 3.
Bake your cookies a bit longer. The recipe calls for the dough to be baked for 10 minutes. It's just the right amount of time to achieve the chewy goodness. But if you let it sit in the oven for a few more minutes, you'll notice your cookies will look more brown/golden than in the pictures you see above. Once the edges start turning a darker golden colour, you can take your cookies out of the oven.
Can You Freeze The Dough For Future Use?
Yes, you can. Since this recipe requires an egg, you can't leave the dough out in the open for too long (2-4 hours is probably the max, especially if it's warm where you are). Freezing extends your keto cookie dough's lifespan by up to 6 to 12 months. Just make sure you wrap the dough tightly in a freezer-safe bag.
If you're feeling adventurous, you don't even need to bake the dough to make keto cookies. There's a ton of desserts you can magically create with your keto cookie dough! You can turn it into protein bars, brownies, cupcakes, fudge, pies, even luscious cakes. Or, you can try mixing it with ice cream or make a milkshake with it! You just need to think outside the box and, of course, swap out the non-keto ingredients for keto-friendly ones.
Are These Keto Cookies Good For Diabetics?
You bet! In general, low carb keto recipes are good for diabetics. We've swapped out regular sugar for erythritol (0 carbs) in this recipe. If you add molasses, net carbs will be extremely low, too. So, yes, these chocolate chip keto cookies are a great snack for diabetics and non-diabetics alike!
Conclusion
A freshly baked batch of keto chocolate chip cookies will surely lift your spirits up. With a rich flavour, chewy texture, and a generous dose of chocolate, this recipe will fill your home with cozy aromas in just 20 minutes. Do let me know in the comments below if you've tried this recipe and if you love it as much as I do!   
Ingredients
Keto Chocolate Chip Cookies Ingredients
¾
cup
sugar free chocolate chips
Directions
How To Make Chewy Keto Chocolate Chip Cookies
1
Preheat the oven to 180°C and line a baking tray with parchment paper. Melt the butter in a double boiler over low to medium heat.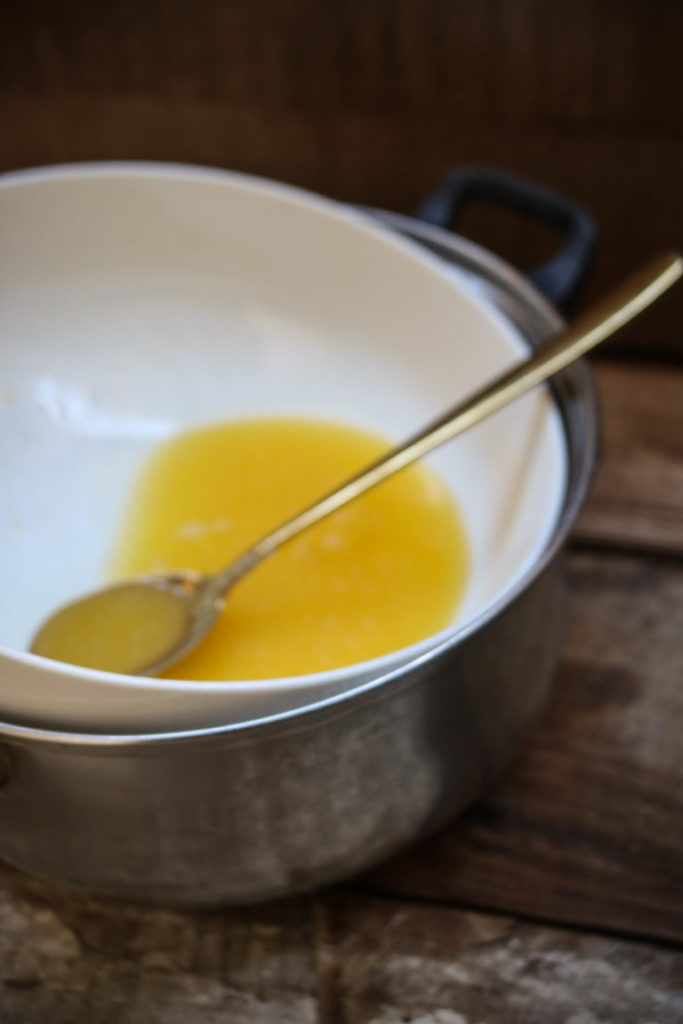 2
Mix the butter with the erythritol until well combined. Add the vanilla and egg, and beat with an electric mixer on low speed for exactly 15 seconds. Don't go beyond 15 seconds if you don't want your cookies to go f