What's the first thing that comes to mind when you think of cheesecake? Sweet and sugary? High carb and not keto-friendly at all? You know, you're absolutely right. But it doesn't mean you need to say goodbye to this marvelous dessert forever. Fortunately, our low carb and sugar free keto cheesecake recipe will satisfy your sweet tooth whilst keeping you on track of your keto diet.
Why Try This Sugar Free Cheesecake Recipe?
Fragrant and not overly sweet, delicate and soft with a crumbly base, this keto cheesecake is a delectable dessert for any occasion. Served with a splash of homemade forest fruit jam, this recipe has the traditional American cheesecake's light texture and baked cream filling. We promise the experience will be absolutely divine – not unlike your favorite non-keto cheesecake at all!
In addition to being a real pleasure to make, this keto version is also a healthy dessert option. It's got cream cheese (a good source of vitamin A and antioxidants) and eggs (a rich source of protein). Of course, it also has that feel-good factor, so it's absolutely perfect to eat if you're feeling blue and need a sweet treat to cheer you up!
Preparation Tips For The Best Tasting Cheesecake
Here are some tips to ensure your keto cheesecake turns out perfect:
All ingredients should be at room temperature, this includes eggs, ghee or butter, and cream cheese. To speed up this process, you can submerge the eggs in warm water. You can also slice the butter and cream cheese into small pieces, so it melts faster.
For a smooth, sugar free cheesecake batter, use powdered erythritol (or whatever your favorite keto sweetener is).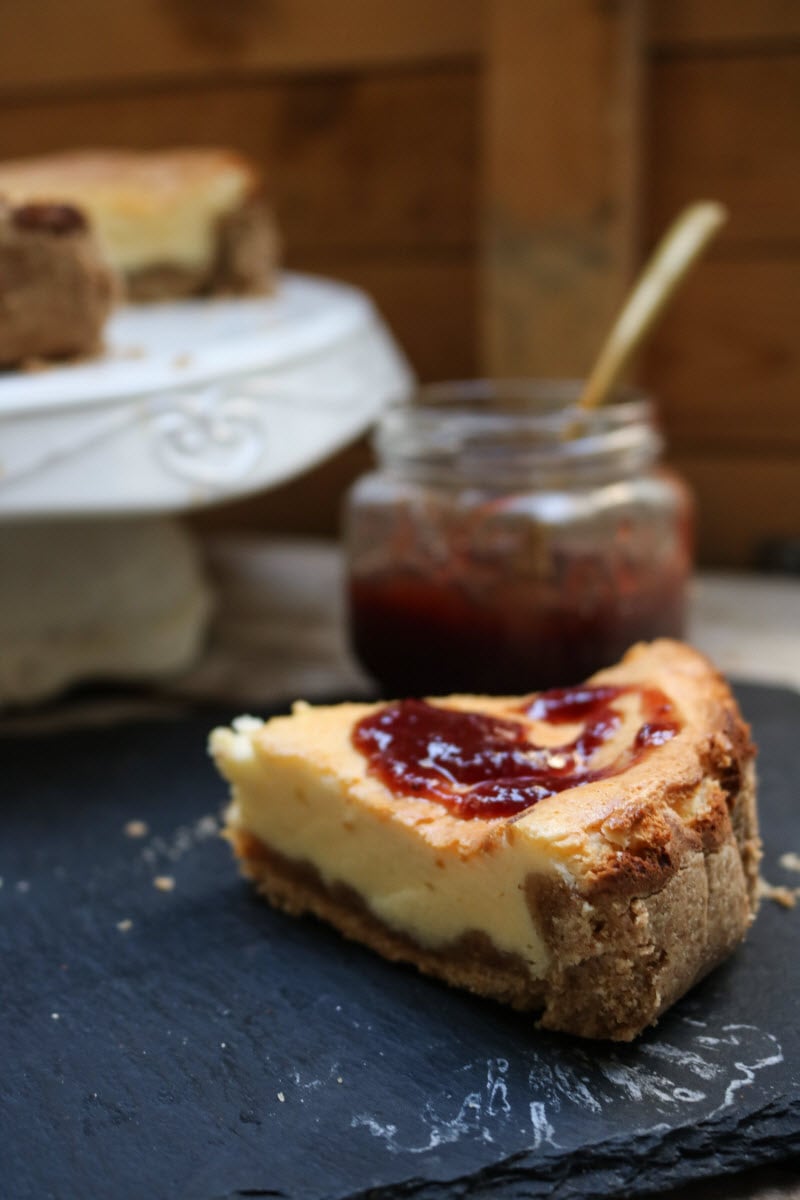 Prep Time10 mins
Cook Time1 hr
Total Time1 hr 10 mins
Keto Cheesecake Ingredients
For the crust:
¼
cup
ghee or butter - melted
For the cream filling :
For the sugar - free jam (optional) :
How To Make The Best Low Carb Keto Cheesecake
1
Start by preheating the oven to 350°F (180° C). Line a 9" / 23cm springform pan with parchment paper, and then grease and flour the paper to make sure the crust stays intact.
To make the crust, mix the almond flour, melted butter, erythritol, and vanilla extract in a mixing bowl to get a slightly crumbly dough. Press the dough into the bottom of the prepared pan. Bake for about 10-12 minutes and let it cool it down to room temperature (this is to prevent the crust from cracking due to sudden temperature change).
* Pro tip: If you're concerned about presentation and want to even out the crust's thickness, carefully press the dough on all sides (including the bottom) with your fingers. You can use a knife to carefully remove the excess dough.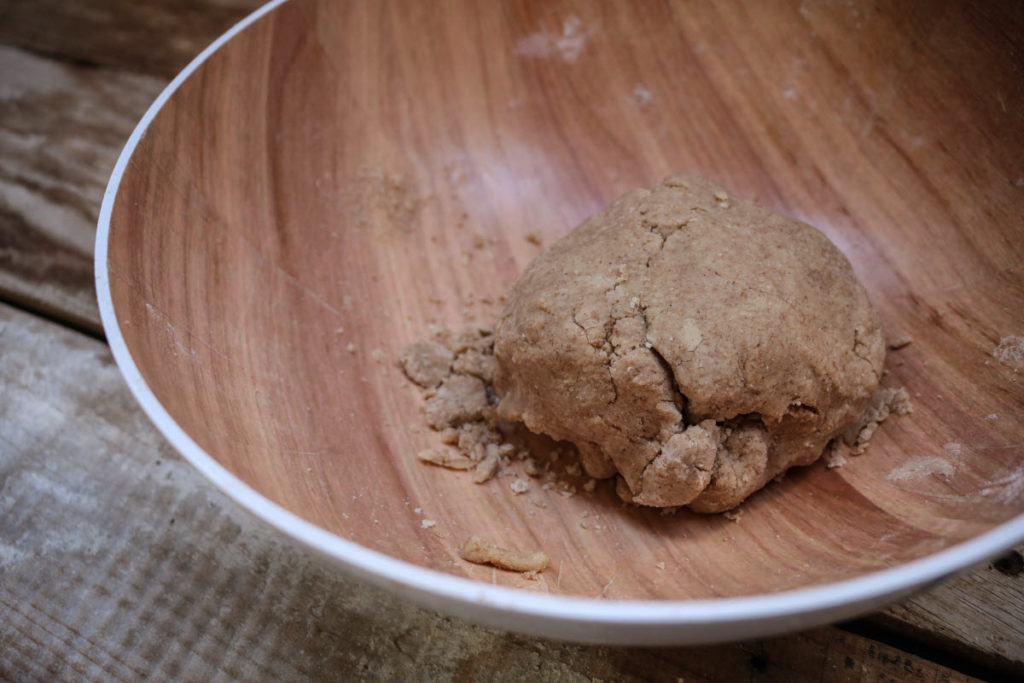 2
For the filling, mix together the cream cheese and powdered sweetener with an electric mixer until fluffy. Then add the eggs, one at a time. Last but not least, add lemon juice and vanilla extract and mix it gently until you get a smooth mixture.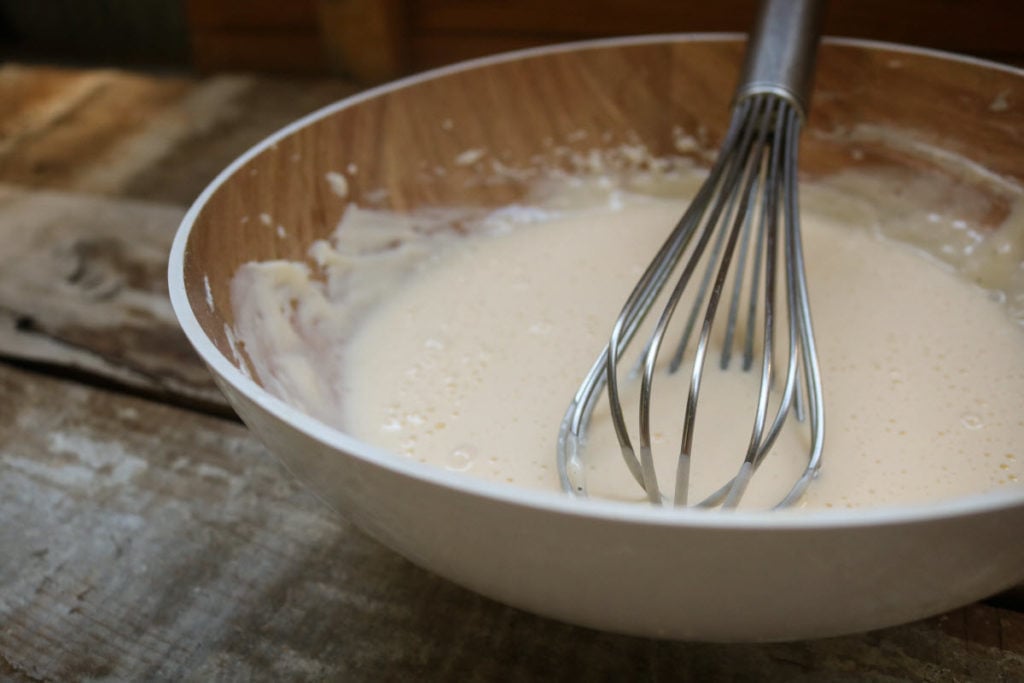 3
Pour the cream mixture into the pan (over the crust). Bake for 45-55 minutes until the center is ALMOST set. Remove the cheesecake from the oven. Allow it to reach room temperature, before refrigerating for at least 4 hours or overnight, until completely set.
Now, how to tell if the keto cheesecake is cooked?
Check the center of the cake. If it's still a bit wobbly and jiggly, it's perfect. If the top has hardened and caramelized, then it's overcooked. If it's showing some cracks, then it's definitely overcooked (don't worry, there's a solution below).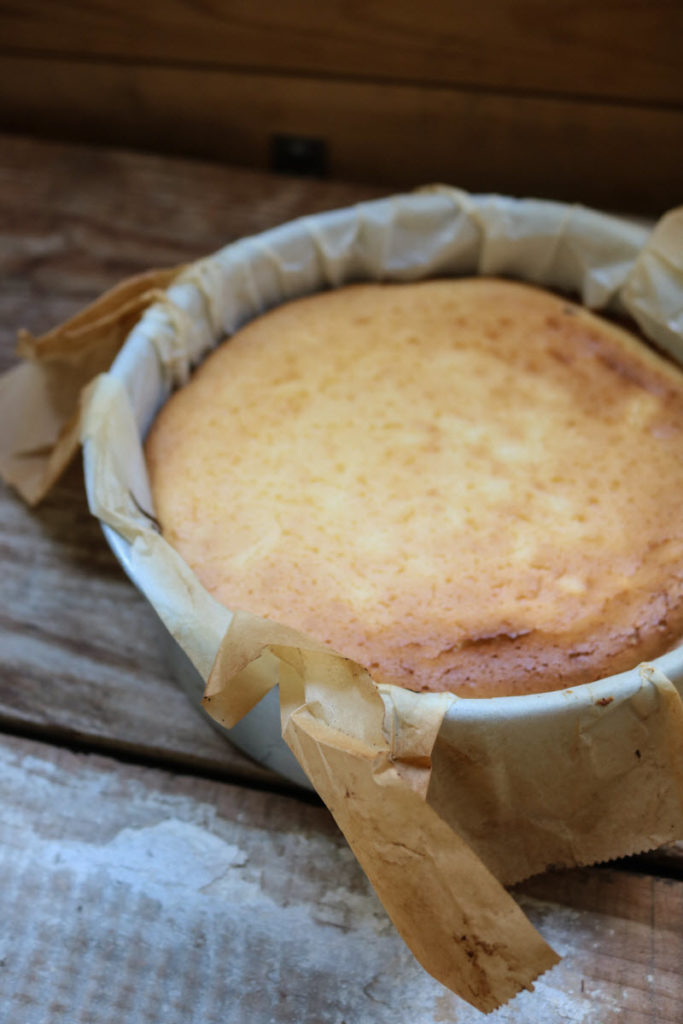 4
With the cheesecake done, it's time to make the sugar-free jam. Mix the gelatin with the lemon juice. Stir well to dissolve. In a saucepan, mix berries, sweetener, and water. Stir well. Bring to a gentle simmer over low heat for 20 minutes. Add the gelatin to the mix while making sure it's completely dissolved. Let it cool and store it in a jar.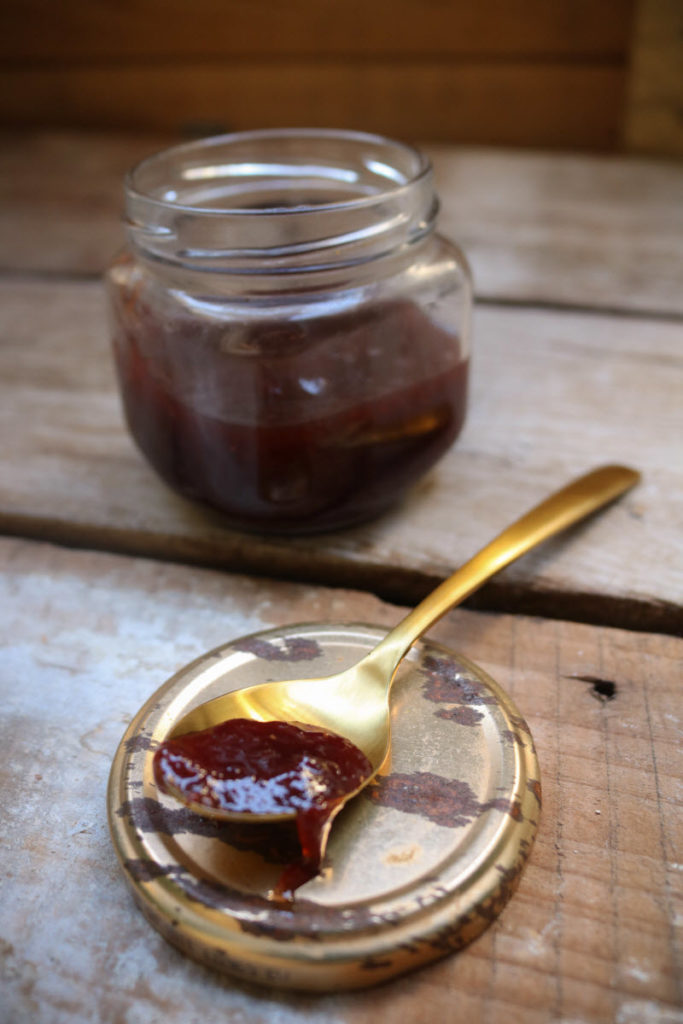 5
Pour dollops of the jam over the cheesecake and serve cold. Enjoy!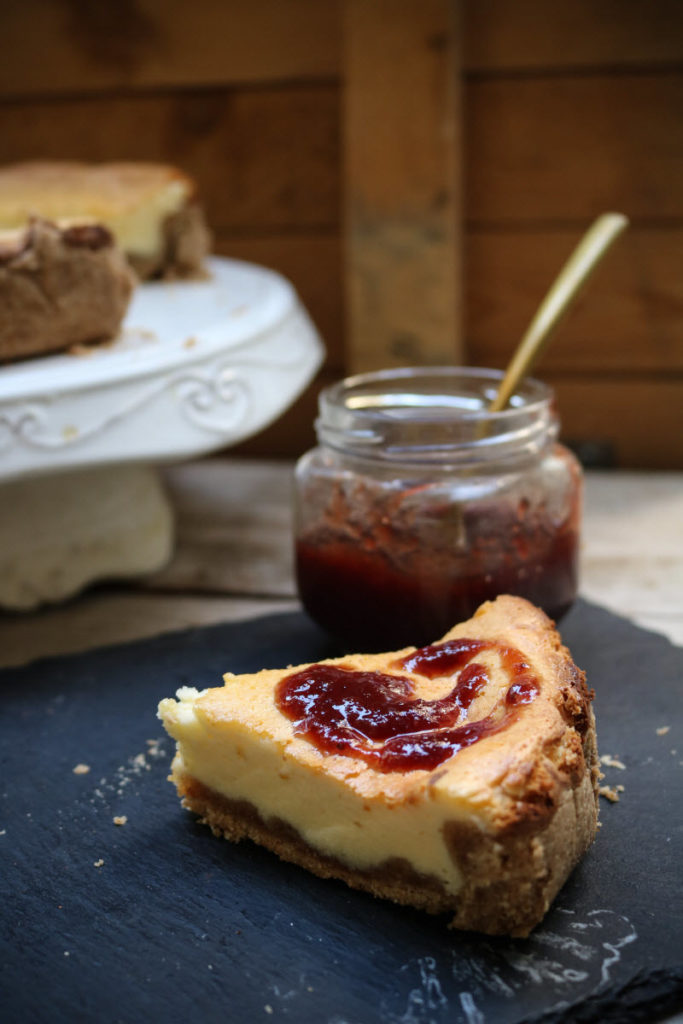 Nutrition Facts
| | | | | | | |
| --- | --- | --- | --- | --- | --- | --- |
| Ingredients | Calories | Fats (g) | Carbs (g) | Fiber (g) | Net Carbs (g) | Protein |
| 1 cup almond flour | 160 | 14 | 6 | 3 | 3 | 6 |
| 1/4 cup ghee or butter-melted | 449 | 51 | 0 | 0 | 0 | 0.1 |
| 1 ½ tablespoons erythritol | 0 | 0 | 22.5 | 0 | 22.5 | 0 |
| 1/2 teaspoon vanilla | 6 | 0 | 0.3 | 0 | 0.3 | 0 |
| 2 cups cream cheese | 1619 | 161.8 | 12.3 | 0 | 12.3 | 35 |
| 1/2 cup erythritol | 0 | 0 | 120 | 0 | 120 | 0 |
| 2 eggs | 126 | 8.8 | 0.7 | 0 | 0.7 | 11.1 |
| 1 teaspoon lemon juice | 1 | 0 | 0.1 | 0 | 0.1 | 0 |
| 1 teaspoon vanilla extract | 12 | 0 | 0.5 | 0 | 0.5 | 0 |
| 1/2 cup berries | 40 | 0.3 | 8.5 | 2.5 | 6 | 0.5 |
| 1 tablespoon erythritol | 0 | 0 | 15 | 0 | 15 | 0 |
| 4 tablespoons water | 0 | 0 | 0 | 0 | 0 | 0 |
| 3/4 teaspoon gelatin powder | 18 | 0 | 0 | 0 | 0 | 4.5 |
| Total | 2431 | 235.9 | 185.9 | 5.5 | 180.4 | 57.2 |
| Per Serving (<8) | 303.87 | 29.48 | 23.24 | 0.69 | 22.55 | 7.15 |
Which Is Better: Keto Cheesecake Vs Regular Cheesecake
There's really no such thing as "regular cheesecake." There are many different varieties depending on where you live. Ingredients vary widely as well, influenced by local culture and what's available in the region. Historically, however, it's widely speculated that the original cheesecake came from ancient Greece, which means the Greeks have been enjoying this dessert for a few thousand years!
That being said, "regular cheesecake" is often a high-carb dessert thanks to its sugar content. Fortunately, there are other sweeteners out there that are perfect for keto recipes such as erythritol (this is what we use in this recipe). Taste-wise, this keto cheesecake recipe is not much different than regular cheesecake, that is, it's still rich, tangy and sweet!
You know what's even better? This sugar free cheesecake is good for 8 servings, so it's perfect for sharing with the family. Because it tastes so good, they won't even know it's a keto dessert (unless you tell them of course)!
Crust Or No Crust Keto Cheesecake?
For those allergic to nuts, you can totally skip the almond crust. There are other conventional ingredients to make the crust, but most aren't good for keto. So, if you're on keto and you've got a nut allergy, then a no crust keto cheesecake is a great option for you.
To make this, you can skip the crust-making step in this recipe (that's Step 1). You'd still need to grease and flour the paper though. All the other steps remain and bake time is largely unaffected (obviously not including bake time for the crust).
My Cheesecake Cracked – What To Do?
No need to panic! The sugar-free jam does not only add flavor to the cheesecake, it can also hide cracks on the cake's surface. Pretty nifty disguise, don't you think? Of course, if you want to use fresh, keto-friendly fruits for toppings, you can use that to cover up the cracks, too.
What To Pair My Keto Cheesecake With?
Coffee is an easy choice. But not just any coffee! Our pumpkin spice keto latte is the perfect complement to this cheesecake recipe. It's high in fat and low in carbs – a serving of this latte only has 7.9g of net carbs, so you're still well within the 50g carb limit for ketosis.
Conclusion
Cheesecake is a dessert meant to be enjoyed by everyone. With this sugar-free keto cheesecake recipe, you can satisfy your sweet cravings with a slice – or two (that's 44g of net carbs though, so you can't pair it with the pumpkin spice keto latte). Give this recipe a try and let us know how it turned out for you!
Ingredients
Keto Cheesecake Ingredients
For the crust:
¼
cup
ghee or butter - melted